The Ultimate Guide to Rocking Your Experience at Toronto Band Camp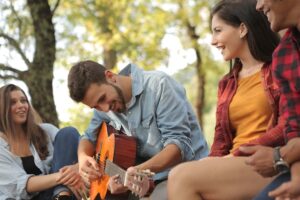 Introduction
Attending your first band camp in Toronto can be an exciting yet intimidating experience. But fear not! With the right approach and preparation, you can make the most of this unique opportunity. In this article, we will unveil 10 secrets to help you ace your first band camp, from choosing the right camp to reflecting on your experience. Let's dive in!
Choosing the Right Band Camp
The first step to acing your band camp experience is finding the right fit for you. Research different camps, focusing on factors such as location, duration, instructors, and musical styles. Take into account your personal goals, whether you want to improve specific skills, meet like-minded musicians, or explore new styles and techniques.
There are various types of band camps to choose from, including those that specialize in specific instruments, genres, or age groups. Talk to your music teacher, fellow musicians, or search online for recommendations. Reading reviews from previous attendees can provide valuable insight into what to expect from each camp.
Preparing for Band Camp
To ensure you make the most of your time at camp, it's essential to come prepared. Practice your instrument regularly, strengthen your music reading skills, and work on your physical fitness. All these elements will contribute to a successful band camp experience.
Practicing Your Instrument
Before attending band camp, spend time practicing your instrument to build your confidence and improve your skills. Set aside regular practice time each day and focus on specific areas where you need improvement, such as technique, tone, or rhythm. The more prepared you are, the better equipped you'll be to handle the challenges and opportunities that band camp presents.
Strengthening Your Music Reading Skills
Being able to read sheet music fluently is essential for any musician. Prior to attending band camp, work on improving your sight-reading skills. You can do this by practicing with a metronome, learning new pieces, or playing along with recordings. The better your sight-reading skills, the easier it will be to learn new music and collaborate with other musicians at camp.
Getting Physically Fit
Band camp can be physically demanding, with long rehearsals and outdoor activities. To ensure you're up for the challenge, it's essential to work on your physical fitness before attending camp. Engage in regular cardiovascular exercise, such as jogging or swimming, and incorporate strength training to build your endurance and prevent injuries.
Packing Essentials for Band Camp
Packing the right items for band camp is crucial. Make sure you bring your instrument, sheet music, and any necessary accessories. Also, pack appropriate clothing and footwear for the camp's activities and weather conditions. Don't forget to bring personal items like toiletries, medication, and a water bottle to stay hydrated.
Instrument and Accessories
Your instrument and accessories are the most important items to pack for band camp. Ensure your instrument is in good working order and has been recently serviced if necessary. Bring any required accessories, such as reeds, valve oil, or extra strings, as well as a portable music stand and a tuner/metronome. It's also a good idea to pack a repair kit for minor instrument repairs.
Clothing and Footwear
Dress for success by packing appropriate clothing for the activities and weather conditions at band camp. This may include athletic wear for rehearsals, comfortable shoes for marching, and layers for fluctuating temperatures. Also, pack a raincoat or umbrella in case of inclement weather and bring a hat and sunscreen for sun protection.
Personal Items
Don't forget to pack personal items such as toiletries, medication, and a water bottle to stay hydrated. It's also wise to bring a small first aid kit, insect repellent, and showing genuine interest in their musical backgrounds and aspirations. Establishing strong connections will not only make your band camp experience more enjoyable but may also lead to future collaborations and networking opportunities.
Participating in Group Activities
Many band camps, including Elite Music Academy's, offer group activities designed to foster teamwork and camaraderie. Embrace these opportunities by actively participating in icebreakers, team-building exercises, and shared musical experiences. This will not only help you bond with your fellow campers but also improve your collaboration and communication skills, which are essential for any successful musician.
Seeking Help and Guidance
Utilizing Instructors
The instructors at band camp are valuable resources, offering expertise and guidance to help you develop your skills and achieve your goals. Don't hesitate to ask questions, seek feedback, or request additional help during your time at camp. Elite Music Academy's Band Camp ensures personalized attention by limiting band sizes to five campers and providing a floating music instructor for daily support.
Learning from Peers
Your fellow campers can also be a valuable source of knowledge and inspiration. Embrace the opportunity to learn from one another by sharing tips, techniques, and experiences. This collaborative learning environment will not only enhance your musical skills but also foster a sense of community and support among campers.
Managing Your Time Wisely
Balancing Practice and Leisure
While band camp is an excellent opportunity to hone your musical skills, it's important to strike a balance between practice and leisure. Allocate time for focused practice and rehearsals, but also give yourself a chance to unwind and socialize with fellow campers during breaks and free time. This will help prevent burnout and ensure you have a well-rounded and enjoyable experience.
Setting Goals and Priorities
To maximize your time at band camp, set clear goals and priorities for your experience. Identify the areas you want to improve, the repertoire you'd like to learn, and any other objectives you have for your time at camp. Keep these goals in mind as you plan your daily schedule, allocating appropriate time and effort to achieve them.
Staying Healthy and Hydrated
Eating Well
Maintaining a balanced and nutritious diet during band camp is essential for keeping your energy levels up and staying healthy. If you're bringing your lunch, pack wholesome and nutrient-dense meals to fuel your body throughout the day. Alternatively, if you're buying lunch, opt for healthy choices that provide sustained energy and support your physical and mental well-being.
Drinking Enough Water
Staying hydrated is crucial, especially during long days of rehearsals and performances. Ensure you drink enough water throughout the day, and consider bringing a reusable water bottle to help monitor your intake. Proper hydration will help prevent fatigue, support cognitive function, and maintain overall health.
Embracing Constructive Criticism
Listening to Feedback
Constructive criticism is a crucial part of growth and development as a musician. During your time at band camp, you'll likely receive feedback from instructors, peers, and even yourself. Listen carefully to this input, considering how it can help you improve and enhance your skills.
Applying Suggestions
After receiving feedback, make an effort to apply the suggestions to your practice and performance. This may involve adjusting your technique, trying new approaches, or reevaluating your goals. By embracing and incorporating constructive criticism, you'll become a more versatile and adaptive musician.
Reflecting on Your Experience
Identifying Lessons Learned
After band camp concludes, take some time to reflect on your experience and the lessons you've learned. Consider how your skills have improved, any new connections you've made, and the insights you've gained during your time at camp. This reflection will not only help you appreciate the value of your experience but also serve as a foundation for future growth and development.
Staying Connected with Camp Friends
One of the greatest benefits of attending band camp is the opportunity to build lasting friendships with fellow musicians. Make an effort to stay in touch with your new friends, whether it's through social media, phone calls, or occasional meetups. These connections can lead to future collaborations, support during challenging times, and a network of like-minded individuals who share your passion for music.
Continuing Your Musical Journey
With the skills and experiences gained during band camp, you'll be well-equipped to continue your musical journey. Use the knowledge and techniques you've learned to further your progress, set new goals, and explore new opportunities in your musical career. Remember that growth as a musician is a lifelong process, and the lessons learned at band camp are just the beginning.
Conclusion
In conclusion, attending a Toronto Band Camp like Elite Music Academy's can be a life-changing experience, offering unparalleled opportunities for musical growth, personal development, and lasting friendships. By following this comprehensive guide, you'll be well-prepared to make the most of your band camp experience, from researching different camps and setting goals to staying healthy and learning from constructive criticism. So, embrace your inner rockstar and embark on an unforgettable musical adventure at Toronto Band Camp!
Frequently Asked Questions (FAQs)
Q: What age range is appropriate for attending band camp?
A: Elite Music Academy's Band Camp in Toronto is designed for young musicians between the ages of 8-16. However, different band camps may cater to various age groups, so be sure to check the specific requirements of the camp you're interested in attending.
Q: Do I need prior music experience to attend band camp?
A: Elite Music Academy's Band Camp requires campers to have completed at least one year of music lessons on their chosen instrument, such as guitar, bass, sax, keyboards, drums, or voice. This ensures that participants have a basic level of proficiency and can benefit from the camp's programs.
Q: What should I bring to band camp?
A: Campers should bring their instruments and necessary accessories, such as guitar picks, drumsticks, and earplugs. Additionally, bring comfortable clothing and footwear, as well as any personal items you may need. For campers who are responsible for their lunch, be sure to pack a nutritious meal or bring lunch money for purchasing food.
Q: How much does band camp cost?
A: Elite Music Academy's Band Camp in Toronto offers various pricing options based on the number of weeks you enroll. Prices range from $499 for one week to $2,320 for five weeks. Be sure to check the specific costs of the band camp you're interested in attending, as prices may vary.
Q: Can I get a refund if I decide to withdraw from band camp?
A: Elite Music Academy's Band Camp has a refund policy based on the amount of notice given prior to the camp start date. Refunds range from a 5% non-refundable administration fee for withdrawals eight weeks prior to the start date to no refunds issued for withdrawals less than two weeks before the camp begins. However, you may change the week(s) you wish to attend if there is availability.
Q: What is the daily schedule like at band camp?
A: Band camp schedules may vary, but generally, campers can expect a mix of individual practice, group rehearsals, workshops, and group activities throughout the day. Elite Music Academy's Band Camp runs from Monday to Friday, 9 am to 4 pm, with no early drop-offs or late pickups allowed.
Q: Are there performance opportunities during band camp?
A: Yes! At the end of each week, Elite Music Academy's Band Camp culminates in a live performance on stage in Toronto. This showcase allows parents and friends to witness the growth and achievements of the campers throughout their time at camp.