A lot of people have been affected by Covid-19 and are spending more time at home than usual. If you fit into this category, consider taking online music lessons during the pandemic. This is a great way to learn how to play music or sing in the comfort of your own home during this time of self-isolation. If you have a passion for music, you can keep it alive by taking music lessons online, and you can rest assured that you'll be able to get the maximum benefits by learning music this way.
Our music teachers have been offering online lessons even before the pandemic began. This is a viable way to learn how to play and how to sing. Online music lessons can be used by beginner, intermediate and advanced students. If you have ever had the inclination to take music lessons, now is a great time to get started.
Online Music Lessons Toronto Academy
Our online music lessons Toronto academy is committed to helping you master an instrument. We are dedicated to helping you succeed and to reaching your music goals. We have witnessed groundbreaking successes and breakthroughs with online lessons just as we have with music lessons delivered in person. When you can't visit the gym, engage in your regular sporting activities and find yourself with more free time, you can still use your time wisely by developing your passion for music.
We offer a wide range of different lessons for different instruments including the following:
Violin lessons

Online drum lessons Toronto

Online violin lessons Toronto

Greek

bouzouki

lessons online

Electric guitar lessons Toronto

Voice lessons Toronto

Acoustic guitar lessons

Singing lessons

Saxophone lessons Toronto

Piano lessons

Bass lessons Toronto

and many others
We have specialist music teachers that can show you how to improve your techniques if you already know how to play an instrument or sing and they can also guide you if you are first getting started. No matter what your playing level may be, we can help you improve.
We offer online music lessons Toronto to people of all ages. We also provide lessons in different styles and we will take the time to discuss what type of music you would like to learn. We believe that having fun is an important part of the learning process when you are taking online music lessons and the best way to enjoy yourself is to play the music you love most.
The Importance of a Structured Time Schedule during the Pandemic
One of the things that affects us the most during this Covid-19 pandemic is having our schedules disrupted. We become accustomed to a day-to-day routine and when that is not possible, it becomes very hard to adjust to a lot of free time. Many people are experiencing mental health issues for this very reason. When you have too much free time and you don't feel like you're being productive, it can make you think a lot.
A great way to overcome this is to put some structure back into your life. Online music lessons Toronto can help you with this. You will be able to pick the times that work best for you but you will also be making a commitment to show up for class during these times. This puts some structure back into your daily routine and will help to lift your spirits. We also recommend putting in place practice times, which will also provide more time structure in your life.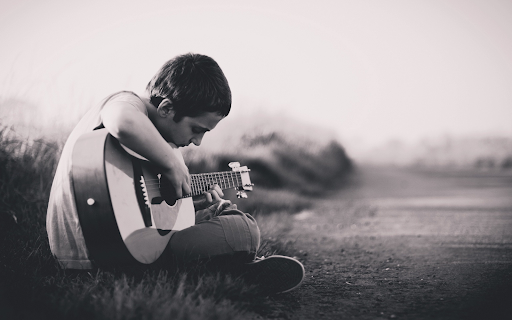 Play Music to Relieve Stress
Music offers a great healing potential since research has shown that playing an instrument can decrease the heart rate, lower blood pressure, reduce depression and anxiety as well as lower a person's stress levels. There is also mounting evidence that playing music or singing can strengthen the immune system to help fight viruses better.
Therapists are now using music to increase memory function and to help with dementia. There is a close relationship between music and unconscious emotions. This means that the feelings that are inspired by music are meaningful even when a person doesn't remember who he is due to dementia or Alzheimer's disease.
Playing music is a great way to practice mindfulness, which is being aware of what's going on at the current moment. You must be in present time to play without being distracted by any worries of the future or by any events that took place in the past. If you find that you have a lot of worries and can't get past them to enjoy the moment at hand, taking online music lessons may teach you how to handle these thoughts even when you're not actively playing music.
Music is also a social part of life and helps you connect with other people that also have a passion for music. While the Covid-19 pandemic has certainly changed the way we socialize, taking online music lessons Toronto gives you the chance to connect with a like-minded musical person to exchange ideas. Once the crisis situation is over and you have learned how to play an instrument you can also consider taking group lessons at a music school in Toronto.
Music Schools Toronto
You don't have to be musically inclined to take lessons at music schools Toronto. If you simply love music but don't feel that you are great at singing or playing an instrument, find out what music lessons can do for you. Sometimes we can surprise ourselves by unlocking hidden abilities that have been lying dormant within ourselves for years.
Find out more about online lessons at music schools Toronto today. No matter what type of instrument you are interested in playing, the odds are good that we have lessons available for it. Feel free to visit our website at elitemusic.ca to learn more about the various lessons you can take to help make it through the pandemic. This is the situation that we are all dealing with right now and the best thing you can do is make the best use of your time while the time is available.